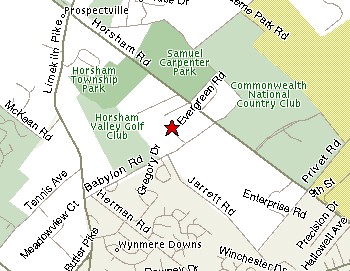 The Babylon Business Campus is conveniently located less than 7 minutes from Exit 339 (Fort Washington) and Exit 343 (Willow Grove) of the Pennsylvania Turnpike.
The Complex is situated on Route 463 Horsham Road between Routes 611, Easton Road and 309, Bethlehem Pike
It is convenient to all highways to Philadelphia, New York, Baltimore, Washington and Harrisburg.
The Campus has an adjoining heliport as well as private and charter plane service nearby.
The surrounding community is made up of residences, recreational golf courses and schools which offer excellent educational facilities.
This area offers an attractive labor market that includes non skilled as well as highly skilled labor.
Use the map below for your custom directions
Campus Office Hours
Monday Thru Friday 9:00 am to 5:00 pm
903 Sheehy Dr Suite D-1
Horsham, PA 19044
Phone 215-674-4440